Why Sould You Register in Sayuri Website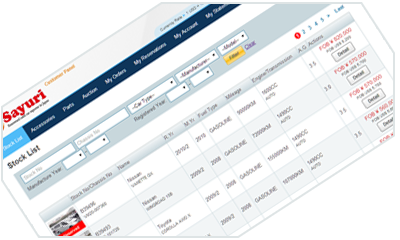 View FOB or CIF prices of all cars in stock list.
More details about the cars available for registered users.
Reserve cars upto 3 days.
Manage your car reseravtions.
View your order history.
Track your orders and shipments.
View your account and payments summary.
Download car images and auction sheets.
Download incoices,export certificates,B/L and other documents.
Bid in any Japanese used car auctions.
Manage your bid offers.
We have updated our customer website to serve you better. Should you encounter any problem with new website, please free to send us an email. Thank you.